What makes a good band great? When the collective unconscious gets channeled, inexplicably they are singing directly to you. Somehow your innermost thoughts are bursting from the face of someone better looking and more alive than you. Then you know its love and you found your band.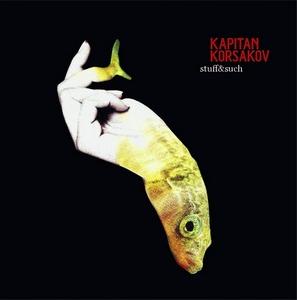 Kapitan Korsakov's 2nd album wades into the fray with Quicksand Surfer, bristling with fuzzy effect layered guitars, driving drums and Pieter-Paul's cat on a hot tin roof wail, turning to a growling wolverine. The psychedelic stained sonic cathedral starts collapsing around you. Don't Believe the Hope takes a familiar Sabbath riff only to turn it inside out and pour on poetry like lava onto a wedding cake. Next up Cancer, which never sounded so good. Smile and Stay Friends and the road curves into a nursery rhyme that you know cuts deep like a first love. An acoustic guitar and piano lament from the country and western songbook of lost love. Enough softness and the gears crunch with Proud Flesh. I was crying in your cunt, it was raining in July. One for the moshpit. Cheese is Christ is an all dancing, arms fly out, hair flicking sweat of a song. KKK are relentless as brick by brick the sonic assault dives and spirals into chaos, destroying itself only to be re-built better, stronger and faster. The ferocity is delivered tenderly in Lest My Water Break, a blue grass suicide paean. And now you realise the level of musicianship of the three guys from Ghent, Belgium. Piss Where You Please, how titles can mislead while the tune is velveteen, 'eat your heart out but make sure
you save some for me as well'. This tune even features a mandolin and KKK pull it off magnificently. Sold a Hole, mines the Butthole Surfers seam squealing, yelping and dragging the metal fingernails along across a musical blackboard. And then we come to rest with In the Shade of the Sun, it is so familiar, so massive, so poignant, you can cry, scream, dance, nod along, headbang, zone out, meditate, dance with you lover or stare into the abyss, with KKK you are never alone as they sing to you and make sure never lose the focus on what is important, it is now, there is no future.